Pursuit of Happiness: Mobile Journaling App
Overview
According to the Anxiety and Depression Association of America, 80% of college students say they frequently or sometimes experience daily stress. College is an important time for learning, not just academically, but also mentally and emotionally. For our Interaction Design Studio, my team and I created Pursuit Of Happiness, a mobile journaling application that focuses on mental health and awareness, targeted towards college students. We worked on this project for 4 weeks.
Role: UX researcher, UX designer, visual designer
Research Question
How can we use mobile technology to help cultivate daily mindfulness habits that ground students emotionally and teach them something about their states of mind?
POH: Pursuit of Happiness
Our solution was a journaling application that centered around an anthropomorphic cactus that acted as a mediator between the user and their emotions.
Exploratory Research
For our first brainstorming session, we decided to map out different areas of "Learning." After creating our map, we chose several areas to elaborate further on. We chose to focus on emotional health, modern skills (which included hobbies), and social skills (eye contact, presentation, etc). We further categorized our ideas for each of our three main areas of focus. In the end, we decided to see how we can design an mobile application that explores self expression and uses biometrics and affective computing to improve positivity. Some ideas thrown out were using plants/flowers to represent the emotional health of the user, and a garden for a community.
Areas of Interest
Our perception of social media: What we see of what's unraveling in the world (in regards to our friends)?

Social Media: When have we felt happy or sad when looking at our newsfeed?

Defining happiness: What is happiness for college students?

Care to self: cultivating daily mindfulness habits (ex. origami) that ground you emotionally

Serendipity: happiness in relation to your environment and to others, idea of unexpected (being surprised, things that shake up your routine and make life more interesting)
Link to our presentation slides for our research results.
Personas
From our research and interviews, we noticed there were a few popular types of people that regularly get stressed out. We identified three of these types of people and created personas for each of them.
Kyle: The Overachiever
Eliza: The People Pleaser
Kunal: The Existentialist
Participatory Design
We sat down with three different users and had them ideate on possible solutions for each persona. We told them to sketch or write down any notes they wanted so that we could see their thinking process. From our ideation session we identified 4 main insights.
1. Students are interested in tracking their emotional health but want the interaction to be seamless.
2. Students often lack awareness of the complex emotions that they are feeling.
3. Students do not take the time to think about emotional health.
4. Students are uncomfortable with sharing about their emotions with friends/peers. Privacy is important.
User flow and Features List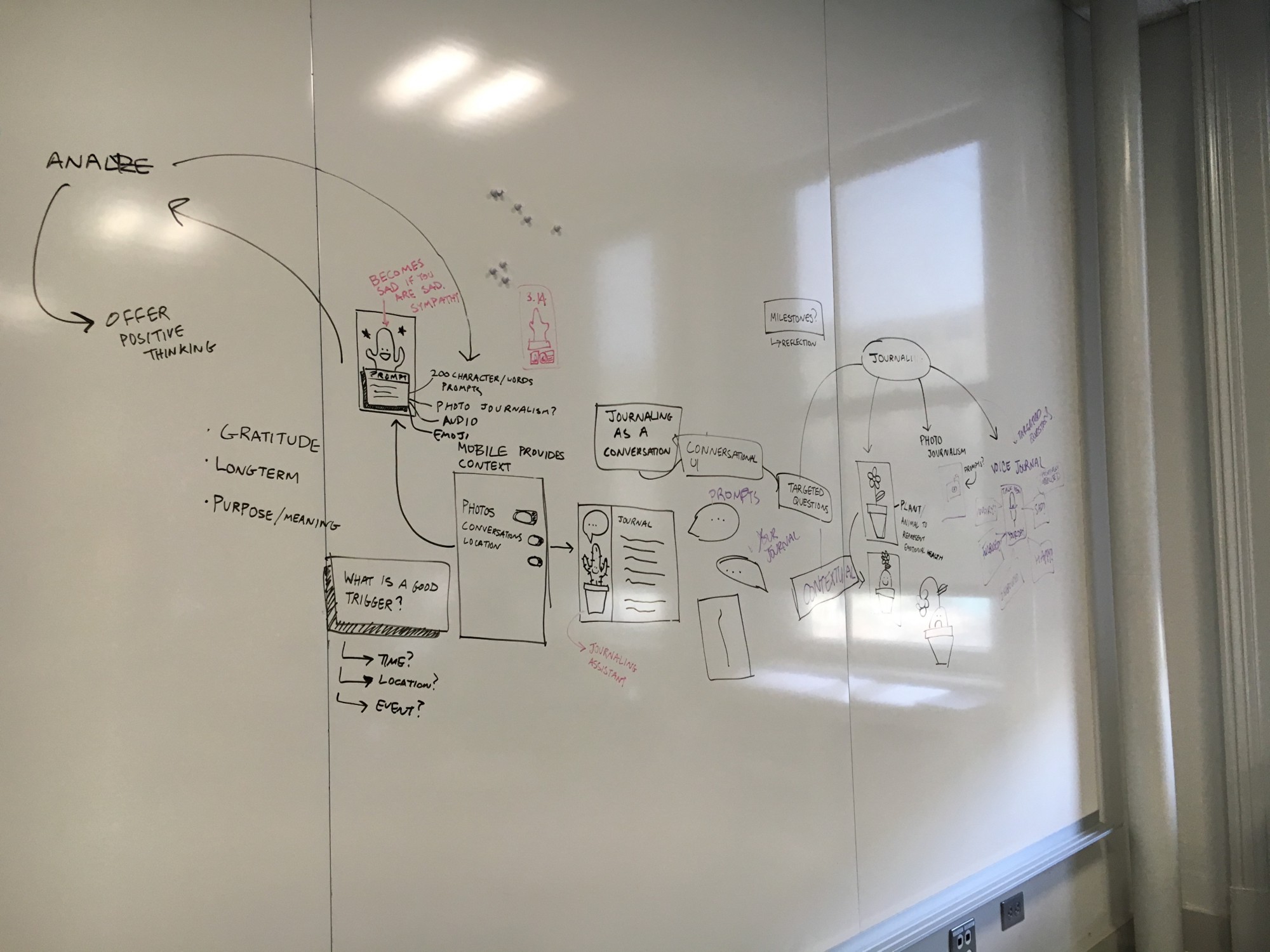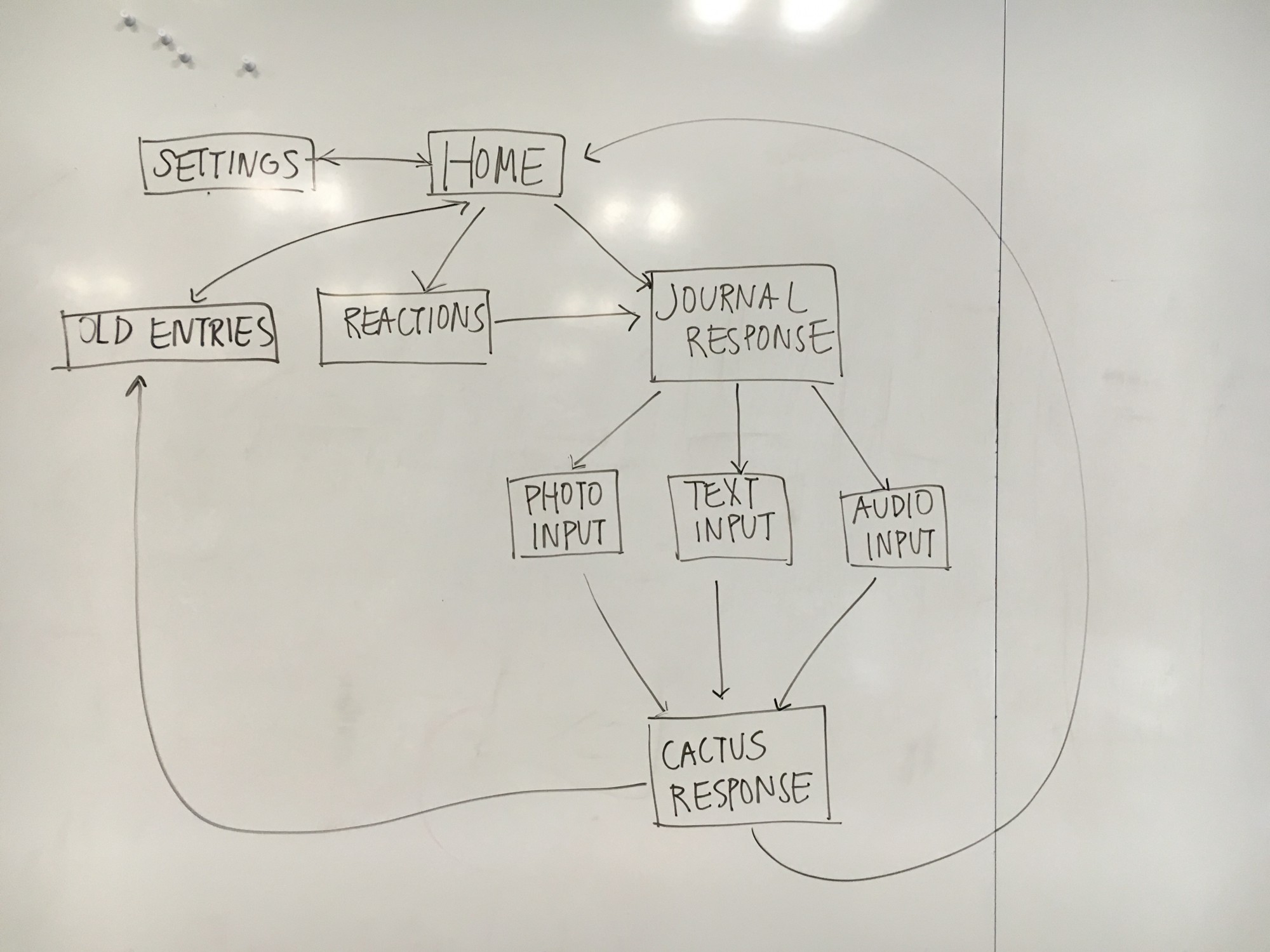 Features
We chose to run with the concept of journaling, based on the feedback we had received from our presentation and the affordances of the mobile platform. We brainstormed the details of the application, including what potential features could be and how they could interact to achieve our goals for our personas.
Uses mobile information to provide context for journaling prompts

Short text journal entries (smaller text box affordances, no blank page pressure)

Photo journaling

Audio recording

Smart prompting option, context aware

Sentiment analysis

Reminder of previous good memory

Ways to offer sympathy

General suggestions

Anthropomorphic cactus avatar that serves as focal point
Storyboard
I was in charge of the visual design of the cactus. I wanted to convey a friendly and supportive vibe, so I used earthy tones and simple features. i tried several different iterations, and narrowed it down to the second one from the left.
User flow